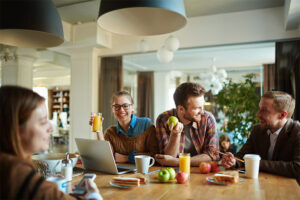 There are lots of options when it comes to choosing where you get your office fruit fix, so how can you be sure you're choosing the best option for your workplace?
We asked our customers why they chose RIPE to get their fruit delivered to work  – here's what they said:
1. Free Delivery
No annoying delivery charges – simply place a minimum order of £20 a week and we'll deliver to you at no additional cost.
2. Boxes and options for both small and large workplaces
We are as happy to deliver small boxes of fruit and a few pints of milk each week to small agencies with 20 staff as we are to deliver large daily orders to multinational corporations with over 1,000 employees.
3. The best-tasting fruit for the price
Our team is at New Covent Garden overnight to ensure that our customers get the very best fruit at the very best price from our network of trusted, longstanding suppliers.
4. Fresher and cheaper than any supermarket
Buying your workplace fruit from a supermarket is a false economy. The fruit is not packaged or priced for businesses and it's certainly not as fresh as the fruit that we deliver. The difference in taste is incredible and it's something that your team will notice immediately.
5. An ever-growing list of office essentials
Need milk? Need different types of non-dairy milk, too? Want to offer something other than biscuits in client meetings? We've got it covered with a huge variety of dairy and non-dairy milk; energy packed snacks like dried fruit and nuts; plus single fruits that you can add to your standard boxes.
6. Delivered early for the start of your day
We deliver through the night so your fruit, snacks and milk is ready when you arrive at work. Many of our regular clients leave us with their keys and we unpack the fruit into their kitchens, taking all packaging and boxes away.
7. Accolades from London's chefs and food celebrities
The founders behind RIPE have been supplying cookery writers, chefs and food lovers including Nigella Lawson and Yotam Ottolenghi for over 30 years, who choose us because of the exceptional quality of the produce, our knowledge of fresh fruit and customer service. We bring this same attention to detail to each of our office deliveries – enabling you to fuel a happier, healthier workplace with one of the easiest and most cost-effective office perks available.